Post by Hellenas on May 14, 2015 12:58:19 GMT -5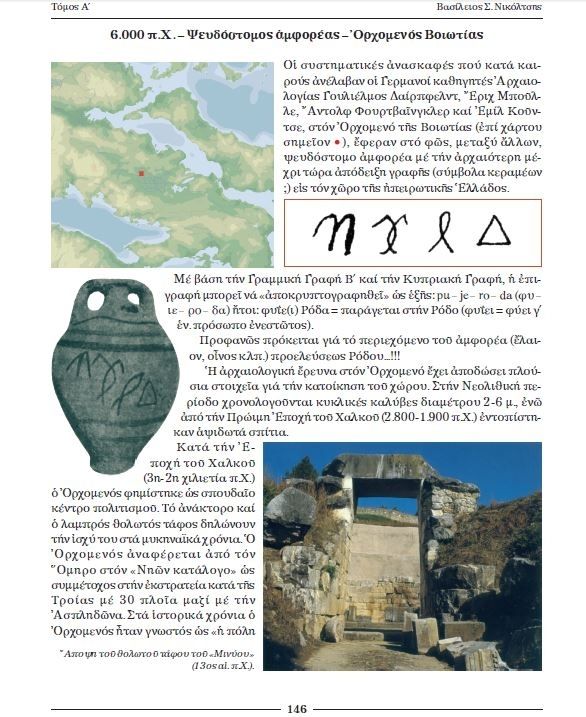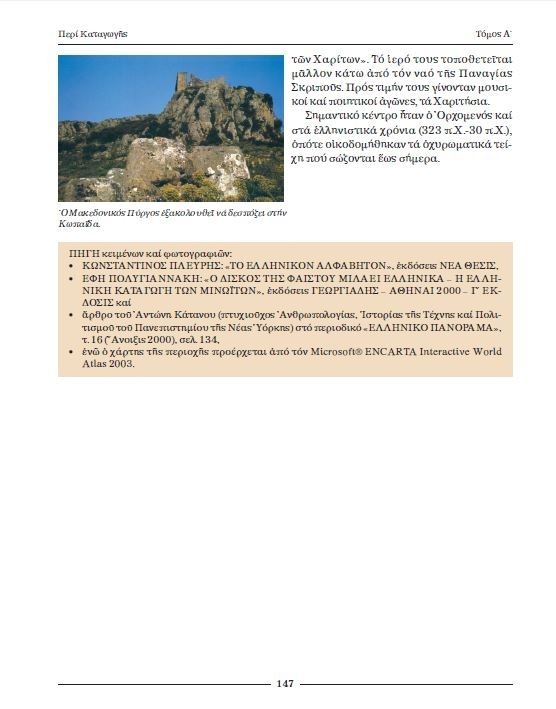 Translation:
6,000 BC.- stirrup jar- Orchomenos of Boeotia.
The systematic excavations which by time to time undertook the Germans professors of Archaeology Wilhelm Dorpfeld, Erich Boulle, Adolf Furtwangler and Emil Kunze, at Orchomenos of Boeotia (red mark on map) brought to light, inter alia, a stirrup jar with the most ancient evidence so far of writing (symbols of potters) in the area of mainland Greece.
Based on Linear B and the Cypriot Writing, the inscription can be "deciphered" as follows: pu - je - ro - da(ΦΥ - ΙΕ - ΡΟ - ΔΑ) namely: ΦΥΙΕ(Ι)=fyie(i) Roda=
produced in Rhodes
(ΦΥΙΕΙ(fyiei)=ΦΥΕΙ(fyei) genitive present tense).
Obviously this is the content of the amphora(oil, wine etc.) coming from Rhodes...!!!
Archaeological research at Orchomenos have give us much information for habitation of the place. In the Neolithic period dated circular huts 2 to 6 meters diameter, and from the early Bronze Age (2.800 to 2.900 BC) found apsidal houses.
During the Bronze Age (3rd to 2nd millennium BC), Orchomenos became known  as a major cultural center. The palace and the brilliant vaulted tomb indicate its strength in Mycenaean times. Orchomenos referred by Homer in "Neon List(a list of Achaean ships)" as a participant in the campaign against Troy with 30 ships along with Aspledon. In historical times Orchomenos was known as "the city of Charites/Graces." Their sanctuary is placed probably beneath the church of Virgin Mary Skripo. To honor them, musical and poetic competitions took place, the Charitisia.
An important center was Orchomenos also during the Hellenistic Period (323 BC-30 BC), when they built the fortification walls that have survived until today.