Post by Hellenas on Jul 1, 2015 0:34:29 GMT -5
Jakob Philipp Fallmerayer

(The Austrian Historian who claimed modern Greeks are Slavs and Albanians and have no connection to Ancient Greeks).
Jakob Philipp Fallmerayer
(10 December 1790 – 26 April 1861) was a Tyrolean traveller, journalist, politician and historian, best known for his controversial (some even say racist)[1][2][3] theories concerning the racial origins of the Greeks, and for his travel writings.
The Greek theory
Following the publication of his Trebizond study, Fallmerayer devoted his scholarly activities to another Greek-speaking region of the Middle Ages, namely, the Morea. In particular, he developed his theory that the ancient, "Hellenic", population of the south Balkans had been replaced during the Migration Period by Slavic peoples. A similar idea had already been proposed by the British traveler William Martin Leake, but Fallmerayer turned it into a theory, which he advocated with characteristic zeal.
The first volume of Fallmerayer's Geschichte der Halbinsel Morea während des Mittelalters appeared in 1830, and he expressed his central theory in the foreword as follows:
"The race of the Hellenes has been wiped out in Europe. Physical beauty, intellectual brilliance, innate harmony and simplicity, art, competition, city, village, the splendour of column and temple — indeed, even the name has disappeared from the surface of the Greek continent.... Not the slightest drop of undiluted Hellenic blood flows in the veins of the Christian population of present-day Greece.[7]"
This phenomenon was further interpreted by Fallmerayer as an indication of the potential of the "Slavic" nations to overwhelm the "Latin" and the "German", a line of thought which he would later develop in his political writings. He further argued that the Great Powers who had supported the Greek War of Independence had been led by a "classical intoxication" to misjudge the character of the new Greek state.
The Geschichte der Halbinsel Morea set Fallmerayer at loggerheads with the European philhellenes in general, and with the Bavarian King Ludwig I in particular, a convinced philhellene who already in 1829 had begun to advance the candidacy of his son, Otto, for the Greek throne (Otto became King of Greece in 1832). Ludwig's philhellenism was in fact grounded in the conviction that the Greek revolt against Ottoman rule represented the return of antique Hellenic virtue.[8] Ludwig's displeasure with Fallmerayer led to a long delay in the confirmation of Fallmerayer's election to the Bavarian Academy of Sciences and Humanities.
The earliest scholarly reviews of Fallmerayer's work were likewise negative. He was accused of philological errors by the Slovenian linguist Jernej Kopitar, and of misreading the historical sources by the historians Johann Zinkeisen and Carl Hopf. Fallmerayer's ideas caused fierce reaction from various scholars of the newly established Greek state and triggered a search for continuity within Greek historiography, in an attempt to prove the existence of links between modern Greeks and the ancient Greek civilization."[9]Travels
An opportunity presented itself when the Russian Count Alexander Ivanovich Ostermann-Tolstoy arrived in Munich, seeking a learned companion for an eastward journey. Fallmerayer applied for and received a year-long leave from his teaching duties, and in August 1831 departed from Munich with Ostermann-Tolstoy.
He was instead offered an Ordinarius position as a member of the Bavarian Academy, where his first lecture concerned the "Albanisation" of the population of Attica. His lecture was answered with an attack on his theories by Friedrich Wilhelm Thiersch, and the two opposing lectures led to a controversy in Munich academic circles, as well as in the popular press.
The controversy had a pointedly political dimension, with Thiersch representing the "Idealpolitik" position, according to which Bavaria should support the Greek state, and Fallmerayer advocating a hands-off "Realpolitik." This political polemic was further provoked by the preface to the second volume of Fallmerayer's Geschichte, published in 1836, in which he wrote that the Greek War of Independence was a "purely Shqiptarian Albanian, not a Hellenic Revolution."[11]
Fallmerayer began to advocate European support of the Ottoman Empire as a bulwark against the growing influence of the Russian Empire in the Balkans.[13]
Fallmerayer's anti-Russian sentiments were not yet fully developed, and upon his return to Munich in 1842, he was befriended by the Russian poet and diplomat Fyodor Tyutchev. This latter had been entrusted by Karl Nesselrode and Alexander von Benckendorff to find a new spokesperson for Russian interests in Germany. Fallmerayer's Greek thesis had aroused interest in Russian circles, and it was perhaps for this reason that Tyutchev approached Fallmerayer and proposed that he should serve as a journalistic mouthpiece for Czarist policy. Fallmerayer declined, and it has indeed been suggested that his growing opposition to Russian expansionism was provoked by this encounter.[14]
Fallmerayer's contributions to the AZ from this period emphasized the strength of Ottoman rule and reformist tendencies in the Turkish government, which he contrasted to the "desolate" condition of the Kingdom of Greece.[19]
Late years
In his last decade Fallmerayer continued to publish a stream of political and cultural articles, in particular in the journals Donau and Deutsches Museum. With the outbreak of the Crimean War in 1854, Fallmerayer's activity as correspondent for the AZ once more increased.[35]
In this conflict he naturally supported the European-Ottoman coalition against the Czar.[36]
He also returned to more academic pursuits, devoting particular attention to a series of publications on the medieval history of Albania.
His Greek theory was already widely disputed in his lifetime, and is not accepted today. Early criticisms were published by the Slovene scholar Jernej Kopitar,[46] Friedrich Thiersch, Johann Wilhelm Zinkeisen,[47] and by George Finlay.[48]
Fallmerayer's work played a decisive role in the development of Byzantine history as a discipline in Greece, where a number of late 19th- and early 20th-century scholars sought to disprove the thesis of Greek racial discontinuity (notable examples include Kyriakos Pittakis and Constantine Paparrigopoulos; Paparrigopoulos demonstrated[49] in 1843 that Fallmerayer's theory had many pitfalls).[50] On account of his insistence on the Slavic origin of the modern Greeks, Fallmerayer was considered a pan-Slavist by many in Greece, a characterization which in any case stood in opposition to his actual writings on contemporary politics.[51] Fallmerayer's name eventually became "a symbol for hatred of the Greeks", and Nikos Dimou wrote (only partly in jest) that he had been raised to imagine
Fallmerayer as a "blood-dripping Greek-eater" (αιμοσταγή ελληνοφάγο).[52]
By the late 1840s he was convinced that Russia would conquer Constantinople and the Balkans, and perhaps further the Slavic lands of the Habsburg and Prussian Empires.
In the mid-1850s he was overjoyed by the success of the European/Ottoman coalition in the Crimean War.[56]Political impact of Fallmerayer's racial theories

In the 1830s, philehellenes who had recently supported the creation of the modern Greek kingdom suspected political motivations in his writings; namely an Austrian desire for expansion southwards into the Balkans, and Austrian antagonism to Russian interests in the area reflected in his other writings. In this context, the calls by English and French intellectuals for a revival of "the glory that was Greece" were seen by Austrians in a very negative light, and any Austrian theory on the Greeks was looked on with suspicion by the philhellenes in the West.[1]

Fallmerayer was first among his contemporaries to put forward a ruthless Realpolitik on the Eastern Question and the expansionist designs of Czarist Russia. He was a Slavophobe[1] and "argued vehemently that only a strong Ottoman State could prevent Russian expansion into Western Europe." [1][9][59]


Fallmerayer's theory was popular as part of the Nazi propaganda in Axis occupied Greece (1941–1944) during World War II, when classically educated Nazi officers used it as an excuse to commit numerous atrocities against the Greek population.[60]
en.wikipedia.org/wiki/Jakob_Philipp_Fallmerayer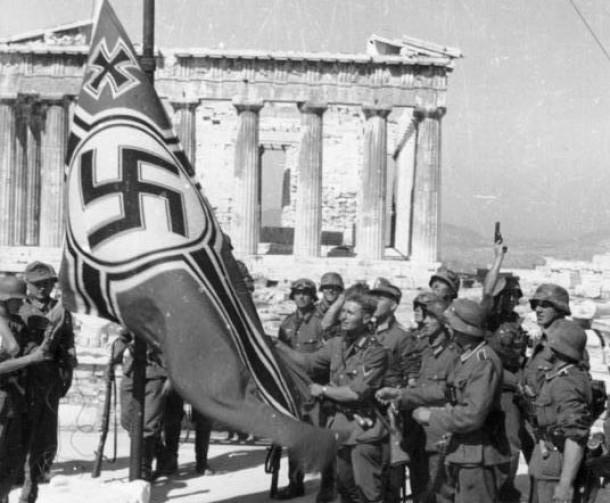 Greece
Massacre of Kondomari (Crete, 60 men, mainly elder)
Razing of Kandanos (Crete, 180, including women children)
Holocaust of Viannos (Crete, 500+, including women children)
Distomo massacre (Central Greece, 218, including women children)
Drakeia massacre (Thessaly, 118 men)
Holocaust of Kedros (Crete, 164, including women children)
Kommeno (Epirus, 317, including women children)
Massacre of Kalavryta (Peloponnese, 1,200+, including women children)
Massacre of the Acqui Division (Kefalonia, 5,000, Italian anti-fascist troops)
Mesovouno massacre (Macedonia, 268, including women and children)
Paramythia executions (Epirus, 201, including women children)
The Massacre of Chortiatis (Macedonia, 146, including women children)
Executions of Kaisariani (Athens, 200+, all civilians)
Massacre of Mousiotitsa (Epirus, 153, including women children)
Executions of Kokkinia (Athens, 300+, all civilians, assisted by Security Battalions)
Alikianos executions (Crete, 118, all civilians)
Razing of Anogeia (Crete, unknown, including women and children)
In addition, more than 90 villages and towns are recorded from the Hellenic network of martyr cities.[24] During the triple German, Italian and Bulgarian, occupation about 800,000 people lost their lives in Greece (see World War II casualties).
en.wikipedia.org/wiki/German_war_crimes#Greece