Post by Hellenas on Nov 17, 2011 16:34:59 GMT -5
28 different European and American universities under the leadership of Cambridge Universite have prove that modern Greeks have the same DNA like Ancient Greeks and that the Greeks descend from the Greeks of antiquity who lived inside of Greece and outside of Greece. Also our neighbors are racially, partly, pretty Greeks. In numbers, 99% of modern Greeks descend from people who had Greek DNA and only 1% from people who had non-Greek DNA. Very soon these studies will see the light.
Stanford University of U.S.A-Pavia university of Italy research of greek DNA.
Summary:
1) The DNA make-up of today's Greeks is 99.5% white. The study cliams that today's Greek has 99.5% the same DNA make-up as as the white Greeks of ancient times.
2) Contrary to beliefs by many in Turkey and certain Slavic nations of ex-Yugoslavia, Greek DNA has not been influenced, nor altered, by the mixture of Slavic or Turkish DNA, even though Ottomans ruled a large part of Greece for 400 years.
3) Out of a sample of 925 modern-day Greek DNA, only 0.4% exhibited non-white DNA.
4) To a large extenet, Greeks of the ancient time "transfered" their DNA to other parts of Europe through their conquests. The study showed that, today, Greek DNA is most similar to: a) Italian DNA, b) French DNA, c) Spanish DNA, d) Turkish DNA.
5) The DNA of Italians in modern day southern Italy is the closest match to the DNA of their Greek neighbors.
The identity of research.
Also involved other research institutes of 5 different countries (from Baghdad to Moscow). The research results were published in
"The American journal of Human Genetics"
. Survey name
"The origins, dispersal and diversification of haplogroups E and J, the Y chromosome: Implications for the Neolithic colonization of Europe and later migratory events in the Mediterranean region"
.
Greek autosomal DNA
A striking demonstration of the persistence of the Greek genetic signature through time can be found in [1]. The figure on the right is the 4th principal component of variation in Europe and shows a strong cline centered in Greece.
Not only is the Greek genetic legacy clearly detectible today, but it is detectible among not only the Greeks, but all their neighboring populations of partial Greek ancestry: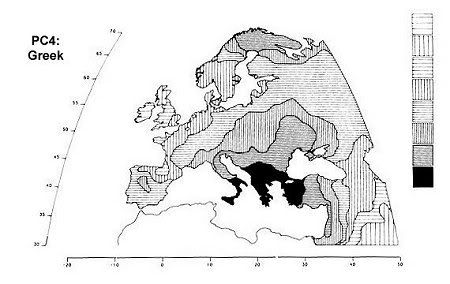 THE FOURTH is strongly reminiscent of Greek colonization in the first millennium B.C.
hhttp://dienekes.awardspace.com/articles/greekadna/
racialreality.altervista.org/genetic_variation.html
Y-Cromosomes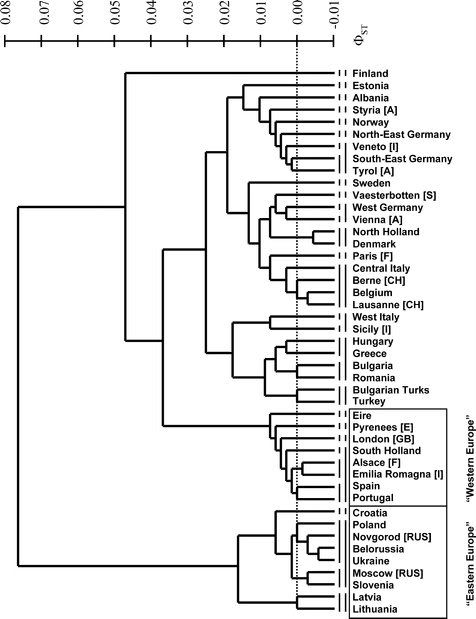 dienekes.awardspace.com/articles/greeknry/indexgr.html
In this autosomal DNA plot of genetic distances derived from 120 allele frequencies, Greeks fall entirely within the cluster containing Caucasoid populations (upper right corner), wedged between Basques and Northern Europeans, and far away from Africans and Asians: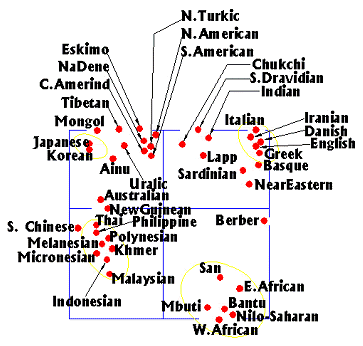 Cavalli-Sforza, L. L., P. Menozzi and A. Piazza. The History and Geography of Human Genes. Princeton: Princeton University Press, 1994.
racialreality.altervista.org/greeks.html
The Greek individuals of this study, like their Italian counterparts had typical southeastern characteristics: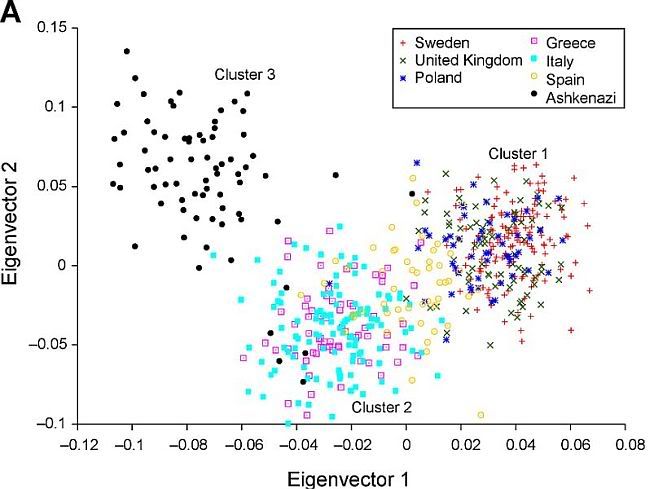 Another study [5] by Tian et al. (2008) considered a larger number of SNPs, with similar results. Once again, the major feature of the variation separated populations from northern Europe and those from southern Europe, while the second principal distinguished between southern Europeans and Ashkenazi Jews.
Greek individuals were closest to Italian ones.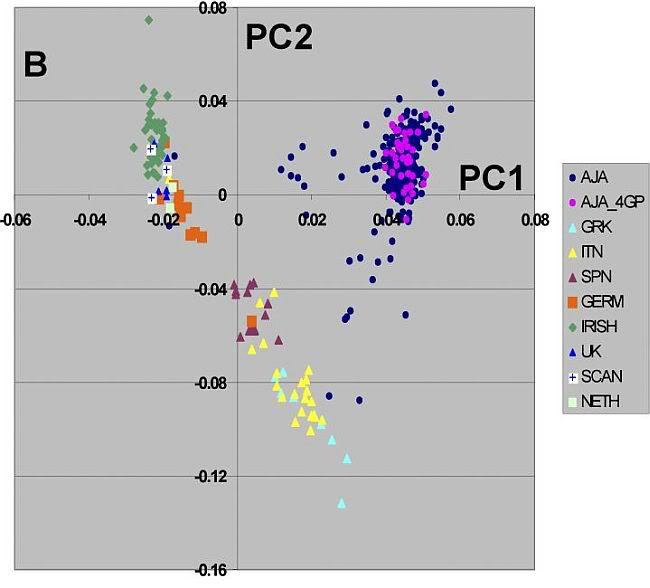 The study included a sample of 51 northern Greeks. It is evident that these Greeks (marked by EL), form a homogeneous cluster, none of them falling in the middle of clusters formed by other ethnic groups. Some of the former Yugoslavs (marked by YU) do fall in the middle of the Greek cluster, however. These former Yugoslavs, as well as the two Italian groups (IT1 and IT2) form the Greeks' closest genetic neighbors. The Yugoslavs are between Greeks and Czechs and Poles, consistent with their having both indigenous Balkan and non-Balkan Slavic origins; the Italians are between Greeks and Spaniards, consistent with their having an Eastern Mediterranean contribution, due perhaps to Neolithic farmers, or ancient (e.g. Greek or Etruscan) colonists.
Shortly after the previous study appeared, another article [7] used the same 500K Affymetrix chip over a sample of 3,192 individuals, including 8 Greeks. While many of the sampled populations are represented by a small number of individuals, thus making generalization more difficult, it is evident that the first two principal components bear an even stronger relationship to the geographical map of Europe. This was probably made possible by the inclusion of a wider range of populations, including many from eastern Europe.
With the caveat of the small population sample numbers, these results are fairly consistent with those of the previous study. Greeks (GR) are once again between their northern neighbors (especially Albanians (AL), Slavomacedonians (MK), Bulgarians (BG), Romanians (RO), and Kosovars (KS)) and Italians (IT). Greek Cypriots (CY) and Turks (TR) also frame the Greek sample on a more southern and eastern direction respectively. The Greeks' closest neighbors appear to be their immediate northern neighbors, as well as some of the Italians who otherwise appear to be quite variable, some of them being more similar to their Central European neighbors; Northern Balkan Slavic populations (Slovenians (SI), Croats (HR), Bosnians (BA) appear more distant in the direction of Central and Eastern European Slavs.
dienekes.awardspace.com/articles/greekadna/
Seldin et al. (2006). European Population Substructure: Clustering of Northern and Southern Populations. PLoS Genet; 2(9): e143
www.plosgenetics.org/article/info%3Adoi%2F10.1371%2Fjournal.pgen.0020143
Bauchet et al. (2007). Measuring European Population Stratification with Microarray Genotype Data. Am J Hum Genet; 80(5): 948-956
www.ncbi.nlm.nih.gov/pmc/articles/PMC1852743/
Source:
s1.zetaboards.com/anthroscape/topic/927880/1/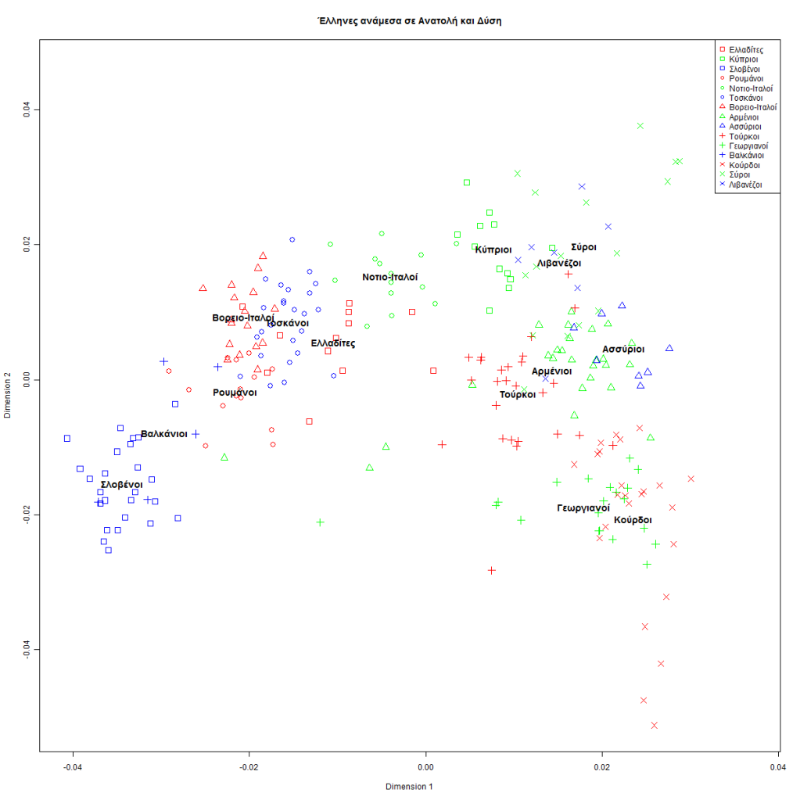 Greeks are genetically closer to South-Italians, Toscans, North-Italians and Romanians than they are to Turks or Armenians.
dodecad.blogspot.gr/
Also, there are some people who have misunderstood the
Dodecad project
by Dienekes. For example, when they read that the 12 Greeks who tested found to be 31,3% West Asian they think that Greeks are
"30% Middle Easterners"
and when they read that they also are 8,9% Southwestern Asian they think that Greeks are
"10% more "Middle Easterners"
. Thus, they finally think that Greeks are
"half Middle Easterners"
, that is wrong as well. But let's leave Dienekes to explain us...
Dienekes put it clearly:
"Δεν χρειάζεται να επαναλάβω πως αυτές οι τιμές αποτελούν πτυχές των σχέσεων των Ελλήνων με άλλους πληθυσμούς και δεν σημαίνουν αναγκαστικά πως οι Έλληνες είναι μίγμα Βάσκων, Σαρδήνιων, Δυτικοασιατών, κ.ο.κ. Απλά καταδεικνύουν πως υπάρχουν λ.χ. μεγαλύτερες κοινές καταβολές με τους λαούς της Μικράς Ασίας παρά με τους Βάσκους ή με τους Σαρδήνιους και άλλους Μεσογειακούς λαούς παρά με αυτούς της Βαλτικής."

"There is no need to repeat that these values ??are aspects of relations between the Greeks and other peoples and do not necessarily mean that the Greeks are a mixture of Basque, Sardinian Western Asians, etc. Just indicate that there are eg greatest common roots with the peoples of Asia Minor than with the Basques or with Sardinians and other Mediterranean peoples than with those of the Baltic Sea."

"Αμέσως επόμενη και σχετικά σταθερή είναι η Δυτικοασιατική, η οποία έχει το μέγιστο της στον Καύκασο και την Μικρά Ασία και επεκτείνεται από τον Ατλαντικό μέχρι την Ινδία"

"Right next and relatively stable is the West Asian, which has the maximum to the Caucasus and Asia Minor and expands from the Atlantic to India."

"Η Νοτιοδυτικό Ασιατική συνιστώσα έχει το επόμενο ποσοστό και είναι αρκετά σταθερή. Έχει το μέγιστό της στους Μεσανατολικούς πληθυσμούς."

"The Southwest Asian component has the following percentage and is quite stable. Has its maximum in middle eastern populations."
greekgenetics.blogspot.gr/
Thus, only 8,9%(Southwest Asian) of the DNA of those 12 Greeks who tested it's similar to that of Middler Eastern populations, the other 31,3%(West Asian), shows common roots with populations from Caucasos and Asia Minor, it's not
"Middle Eastern"
.
Even Turks genetically are 45% Europeans.
The fact remains,
only 12 persons were tested(Greeks in Greece count 10,815,197 million people, thus 12 persons represent nothing as well).
There is need to be tested much more people so to come in a right conclusion.
Here, speaking of official and accurate data:
"This reference population is based on samples collected from the native population of Greece. The 54% Mediterranean and 17% Southwest Asian percentages reflect the strong influence of agriculturalists from the Fertile Crescent in the Middle East, who arrived here more than 8,000 years ago. The 28% Northern European component likely comes from the pre-agricultural population of Europe—the earliest settlers, who arrived more than 35,000 years ago during the Upper Paleolithic period. Today, this component predominates in northern European populations, while the Mediterranean component is more common in southern Europe."
genographic.nationalgeographic.com/overview-of-regions-and-closest-populations/reference-populations/